LENTON® Form Saver™
LENTON® Form Saver™ solves the age old problem of joining rebar in staged construction while protecting your valuable forms from damage.
All Form Saver™ couplers are supplied pre-assembled to the rebar with mounting plate for attachment to form work and a pressed in metal disc thread protector which can be easily removed.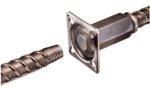 Features
Safer job site by eliminating protruding dowels
Mounting plate has keyed holes to ease attachment to form
Meets or exceeds requirements of most international codes and standards
All couplers are attached to the first pour rebar
Taper threads eliminate the problems of cross-threading while providing a precise positive locking splice
System uses standard bar diameters
Built in thread cover protects internal threads from concrete paste contamination and is easily removed
Applications


LENTON® Form Saver™ is ideal for slip form, jump form, segmental pour and stair well applications. They can be used to eliminate a wide variety of construction related problems:
Pour Breaks / Construction Joints
Slab Penetrations
Stairwells
Tower Crane Openings
Future Extensions
Dangerous Starter Bars
Pile Extensions (cut offs)
Beam to Columns
Floor Slabs to Core Walls (block out)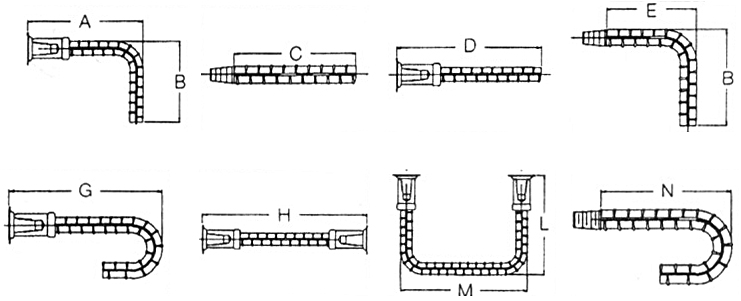 LENTON® Taper Threaded Rebar Couplers

LENTON® is the world's most widely used mechanical rebar splicing system available today.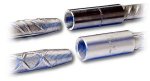 Features
Unique self-aligning taper-threaded design provides continuity and structural integrity
Spliced bars behave as continuous lengths of reinforcing steel bars by providing full strength in tension, compression and stress reversal applications
Designed to withstand man-made blasts, and other seismic events
Quick and easy to install
Develops higher tensile strength than lap splicing
Provides full load transfer with the slimmest and shortest coupler possible
LENTON® Interlok™

For precast construction, ERICO offers the LENTON® InterLok™ rebar splicing system. It is designed to provide structural integrity between load bearing precast members such as columns beams and shear walls.
LENTON InterLok uses a specially formulated cementitious grout in conjunction with the LENTON taper threaded system. It offers efficient, versatile and cost-effective connections.

Features
Convenient and flexible to use
Eliminates unsightly and costly patchwork
For all rebar sizes from 16 mm (#5) through 57 mm (#18)
Optimizes production time while improving integrity of the structure

Maintains structural integrity through precast sections - reinforcing steel acts as one continuous bar

Tensile loads are transferred through the rebar - not dependent on the compressive strength of the concrete

Connection is not detrimental to surrounding concrete as no heat is produced

Applications

Taper-threaded and grouted precast construction splices
LENTON® Terminator™

The LENTON® Terminator™ is an over-sized end anchor secured to the end of a length of reinforcing steel, creating anchorage within the concrete.
This approach greatly simplifies rebar placement and reduces congestion. The LENTON Terminator incorporates the time-tested and field-proven LENTON tapered thread.


Features
No special training required

Eliminates rebar hook - simplifies bar placement

Minimizes embedment lengths - reduces congestion

Simplifies concrete placement

Greater design flexibility

Faster installation lowers in-place costs

Available for standard rebar dimensions
Applications
LENTON Terminator is ideal for all forms of construction, including dams, subways, bridges, high-rises, water treatment plants, and stadiums

The Terminator is frequently used for Beam/Column and Roof/Column applications

Can also be used for future extensions to Beam/Column and Roof/Column connections
CADWELD® Rebar

For the most demanding applications, CADWELD® mechanical splicing system has extremely high tensile performance. It is the only rebar splicing system that has been used in over 200 Nuclear Power Plant projects throughout the world.
The CADWELD rebar splice is a mechanical butt splice (a metal filled splice, not a welded splice) that produces a joint with basically the same mechanical properties as those of an unspliced bar. CADWELD rebar is very suitable for in-situ splicing applications.

Features
No special skills required

Works on all grades of steel with deformations

Can be visually inspected

No special bar end preparation needed

Designed to meet or exceed many major Building Code requirements

World's most tested mechanical splice - over 25,000 actual tensile tests

Consistently develops minimum ultimate strength of the rebar (150% of yield on grade 60 bars according to ASTM A615)

Requires hand-held equipment only (no heavy hydraulic non-electrical equipment), thus can deal with minimum bar spacing

Retrofit and repair with short dowels
Applications
The primary usage for CADWELD is related to critical structures requiring high safety margins such as: blast resistant facilities, pressure vessel applications, seismic resistance, nuclear reactor containment structures, and in-situ splicing applications

It is also excellent for joining circumferential bars
Quick-Wedge™

ERICO´s Quick-Wedge™ splicing system is a simple and quick alternative for joining small diameter reinforcing bars. The splice consists of an oval shaped steel sleeve and a wedge pin. Installation is made in seconds by over-lapping rebar in the steel sleeve and driving the wedge pin between the bars with a portable hydraulic hand tool.

Features
Minimizes length of exposed rebar dowel - eliminates excessive concrete chipping in retrofit installations
Bars can be cut to the approximate size spanning between the rebar being joined

Lightweight hand-held hydraulic pin driver designed for minimum clearance situations

Joins #4 (12 mm), #5 (16 mm) and #6 (20 mm) reinforcing bars

In-situ splicing with minimum dowel length requirement for bar smaller or equal to 20 mm

Low cost

Visual inspection possible

Simple to use

Connections can be made in virtually any weather

Can make up to 100 splices per hour
Applications
Lapped bar capability and minimal exposed bar ends make the Quick-Wedge system ideal for repairs or expansions including:

Bridge Repair

Road Repair

Precast

Building Extensions

Spiral Reinforcement

Stirrups and Ties

Pile Extensions

Epoxy Coated Rebar
Speed-Sleeve™

Speed-Sleeve® is the ideal mechanical splice for compression only steel reinforcement applications. The system is designed to allow compressive loads to be transferred by aligning square cut rebar to bear on one another.


Features

Install on rebar dowels without upper bar in place

Fast one man installation keeps costs down

Can be used on bundled bars

Needs only lightweight ratchet wrench

Positive end bearing maintained - doesn't depend on weight of rebar to keep ends in contact

Transition splices can be made using simple adaptor inserts

Easily removed and reused

Self supports, no tack welding needed

Bars can be individually secured - compensates for rebar size variation and out-of-roundness